TACO TUESDAY
Weekly on Tuesdays, 7:00pm - 11:00pm
Taco Tuesday – every Tuesday from 7 pm. Gather with your friends for a taco fiesta on Tuesday at your favorite Mexican cantina - choose from 10 varieties of tacos to excite your senses. BHD 22 per person, includes two special beverages.
Explore experiences in Bahrain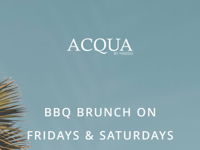 BBQ Brunch by Aqua
Weekly on Fridays and Saturdays, 12:00pm - 4:00pm
The weather to party, food to fill the mood & cocktails to match. Brunch is BACK and were doing it Masso Mediterranean BBQ style - with a tantalizing new menu every week!
Package details:
Non-Alc package available at 28 BD +++
2 Salads/ Starters, 1 Main Course, 1 Side dish, 1 Dessert
Unlimited soft drinks, teas' and coffees
Selected Alc Package available at 35 BD +++
Single shot house spirits
House red, white and rose wine
Selected cocktails and beers
Friday and Saturday 1pm-4pm
Reserve Now