Experiences in Dubai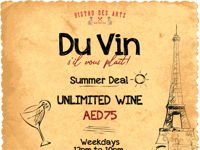 UNLIMITED WINE ON WEEKDAYS
Weekly on Sundays, Mondays, Tuesdays, and Wednesdays, 12:00pm - 10:00pm
2 hours of flowing Prosecco and house wine – minimum order of 2 courses per person
Reserve Now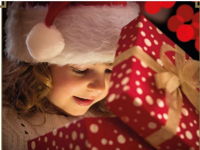 UNWRAP THE FESTIVITIES
Daily, 12:30pm - 8:00pm
Bring friends and family together to the merry atmosphere of Cafe Society's Festive lunch. Enjoy an exclusive holiday-themed menu fire with traditional favourites, served with all the trimmings and finished with a decadent buffet of desserts. The live entertainment adds a festive fervour to the occasion.
Reserve Now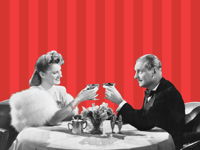 URBAN NIGHT
Weekly on Fridays, 5:00pm - 11:30pm
Le Frenchy's joie de vivre comes from mon swagger, and mon swagger comes from mon amour du all things urban, en particulier le Hip Hop. Friday nights are all about soaking up an unbelievable urban atmosphere with the best hip-hop beats and R&B music as you lose yourself to dance at Urban Night. With mon ami, DJ Andy Newton, behind les decks once more, Le Frenchy will help you find your own French swagger while you party the night away in style.
Reserve Now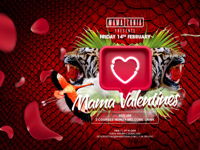 VALENTINE'S DAY
8:00pm - 11:00pm
This Valentines make your way to Mama Zonia for a night of lust, love and laughter. Make your way into his or her heart through our 3 course menu, after all the best way to the heart is through the stomach or so we've heard! The menu is accompanied by complimentary welcome drinks and the most romantic view in The Marina all for AED 499.
Reserve Now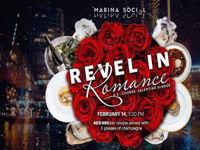 VALENTINE'S DAY
Marina Social by Jason Atherton
7:30pm - 11:00pm
Revel in Romance at Marina Social 5-course set menu with two glasses of bubbly
AED 895 per couple
A rose and "After Eight" mints will be given to take home.
Friday, February 14, 7:30 PM
Reserve Now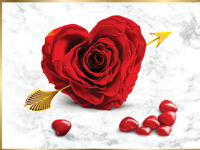 VALENTINE'S DAY
7:00pm - 10:30pm
Love is on the menu at Cafe Society. Share the unforgettable moments with friends and loved ones over perfectly crafted courses.
Price: AED 350
Reserve Now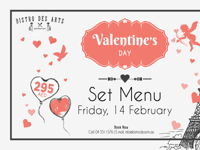 VALENTINE'S DAY
6:00pm - 11:00pm
Bistro Des Arts invites couples to celebrate love while savouring dishes infused with Parisian flavours.
Kicking off with the starters, portions of crab will be served as well as tuna and prawn in tartar style followed by lobster linguine and a roasted rack of lamb for the main course.
The three-course menu is topped of delectable desserts keeping diners satisfied and happy with their meal.
AED 295 per person
Reserve Now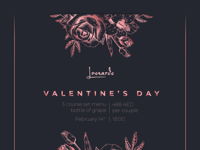 VALENTINE'S DAY
6:00pm - 10:00pm
What's our plan for #ValentinesDay? To make your romantic evening as memorable, elegant and as delicious as possible, of course!
Reserve Now