Restaurants in Dubai
1
Experiences in Dubai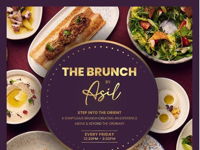 THE BRUNCH BY ASIL
Weekly on Fridays, 12:30pm - 3:30pm
Brunch by Asils is a cultural and culinary adventure through the tastes, sights, and sounds of Turkey, Lebanon, and Morocco.
Food selection offer the best of Asil with the Brunch BBQ Platter taking star of the show alongside crowd favorites such as the Asil Entrees platter, Simit Kumru, Tornado prawns rolls and the duo of Meat & Chicken Shawarmas.
Entertainment program with artist that will be on-site offering complimentary Henna for female guests, a live band, a clarinet player and Turkish Resident DJ, Mustech, on the decks playing a fusion of house-inspired Arabic and Turkish sounds
• set menu based on sharing concept with house beverage package 375AED per person
• set menu based on sharing concept with soft drinks package 275AED per person
After-brunch package
extend beverage package for AED100 per hour - per person
AED100 per person to include shisha on the terrace
Kids policy: 12 years and above only.
Every Friday 12:30 PM to 3:30 PM
Reserve Now
2