تجارب في دبي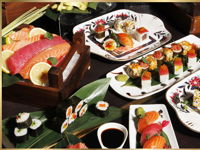 SUSHI WEDNESDAY
أسبوعي يوم الأربعاء, 9:00ص - 11:30م
ALL-YOU-CAN-EAT sushi and tempura every Wednesday at AED 299 for 2 persons!
أحجز الان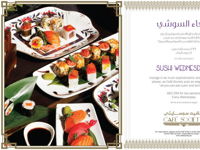 SUSHI WEDNESDAY
أسبوعي يوم الأربعاء, 9:00ص - 11:00م
Indulge in as much sophistication and taste as you please, as Cafe Society puts an elegant spin on "all-you-can-eat sushi and tempura".
AED 299 for two persons
أحجز الان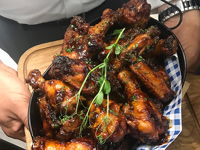 TACKLE AND QUIZ
أسبوعي يوم الإثنين, 8:00م - 11:00م
Mondays are challenging in and of themselves, so we are trying to make them a little more fun at Nezesaussi Grill Dubai Marina.
Put your will power to the test and try tackle a 1.5kg portion of hot and spicy chicken wings, as well as a 1.5l jug of hops in under 15 minutes, and it's on us. If you get tackled to the ground by the wings and the hops, you owe us AED 149!
DJ Josh Anderson is also on hand to ask you the not-so-difficult questions in the Quiz from 8pm.
أحجز الان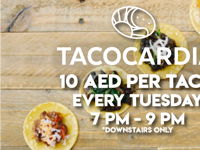 TACOCARDIA
أسبوعي يوم الثّلاثاء, 7:00م - 9:00م
Somebody call 9-Juan-Juan, 10 AED Tacos Every Tuesday 7:00 pm – 9:00 pm… Dad Jokes Separately Reservations Encouraged @KizmetDXB
أحجز الان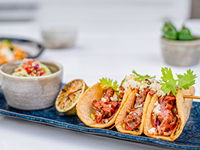 TACO SOCIETY
أسبوعي يوم الثّلاثاء, 5:30م - 11:00م
Tacos in Garden come in all kinds of shapes and are so intriguingly delicious, that we had to create its very own Taco Society! Become part of this new exclusive society and taste your way through seven different kinds of tacos while taking in the vibrant atmosphere of this new restaurant. Visit Taco Society four times and get a complimentary taco platter and margarita pitcher on your fifth visit!
Every Tuesday from 5:30 pm until midnight. AED 15 per taco.
أحجز الان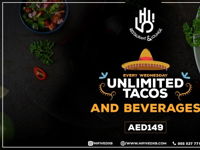 TACO WEDNESDAY
أسبوعي يوم الأربعاء, 8:00م - 11:00م
Grab your amigos! It's taco time. Enjoy unlimited tacos and drinks for just AED149.
Every Wednesday | 8-11pm
أحجز الان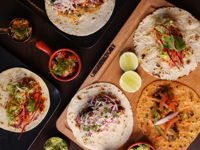 TACO WEDNESDAYS
أسبوعي يوم الأربعاء, 5:00م - 10:00م
Ladies & gents! Feast on unlimited chicken wings doused in buffalo or honey BBQ sauce. Enjoy it along with free-flowing hops or grape for three hours.
Every Wednesday, 5pm to 10pm | AED 150 per person
أحجز الان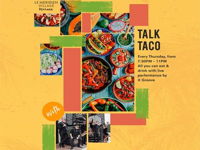 TALK TACO
أسبوعي يوم الخميس, 7:30م - 11:00م
From merciless margaritas to tip-top tostadas and exemplary enchiladas, start your weekend with great music and bang-on Mexican food at Le Meridien Dubai Village Terrace.
AED 239 inclusive of free-flowing house beverages
AED 119 food only package
Kids below 10 years old can dine at no cost
Every Thursday | 07:30 PM - 11:00 PM | Last beverage order 10:00 PM
أحجز الان