تجارب في دبي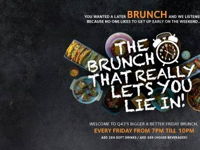 THE BRUNCH THAT REALLY LET'S YOU LIE IN
أسبوعي يوم الجمعة, 7:00م - 10:00م
You wished for a later brunch and we listened! Welcome to Q43's Bigger & Better Friday evening brunch, the only 'Brunch That REALLY Lets You Lie In'.
Q43 will be serving up their usual Friday Brunch but during the evening from 7PM to 10PM with the same tempting menu and package you already know and love:
AED 369 with house beverages
AED 269 with soft beverages
Every Friday from 7PM to 10PM, indulge in an array of scrumptious options from Q43's unique mix of global flavours. With tasty sharing dishes served to you at your table, great views, an unbeatable atmosphere and drinks that pack a punch, Friday Brunch in Dubai doesn't get more epic than this!
أحجز الان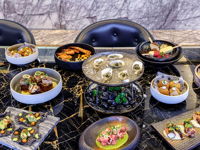 THE BULL OF WALL STREET BRUNCH
1:00م - 5:00م
Tune into the 80s as Bull & Bear transforms it's famous brunch into an 80s style mania. Dress up in your old-school attire and enjoy Bull & Bear's signature dishes while dancing to the live music.
Put on the best 80s attire and stand a chance to win a stay at Waldorf Astoria!
Packages:
AED 290 per person inclusive of soft drinks
AED 450 per person inclusive of bubbly
Date & Time: 30th October, 1:00pm-5:00pm
أحجز الان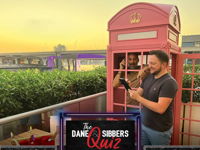 THE DANE & SIBBERS QUIZ NIGHT
Cafe Artois at Bridgewater Tavern
أسبوعي يوم الأربعاء, 7:00م - 10:00م
Team up with your friends and family to test your IQ at the all new quiz night at Bridgewater Tavern. Great banter, fun trivia, hearty comfort food and flowing beverages, it's one not to be missed.
Featuring a series of trivia, creative games, music bingo and lots of prizes.
Every Wednesday, 7pm until 10pm
أحجز الان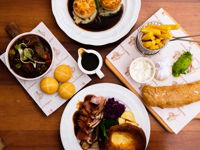 THE ELOQUENT ST. PATRICK'S DAY
يومي, 3:00م - 9:00م
The Eloquent St. Patrick's Day Special menu - March 17 to 22
Choose any 3 House drinks & 1 Main Course with a complimentary dessert from St. Patrick's Day Special for AED179.
أحجز الان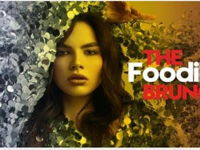 THE FOODILICIOUS BRUNCH
أسبوعي يوم الخميس, 1:00م - 4:00م
• AED 199 per person -themed buffet with non-alcoholic beverages.
• AED 349 per person -themed buffet with non-alcoholic and house alcoholic beverages (wine, beer, spirits, and cocktails)
• Children from 0-5 dine with our complimentary and from 6-12 years old receive 50%. The full price applies for children above 12 years old.
Starting 18th September 2020
Every Thursday | 1:00 pm - 4:00 pm
أحجز الان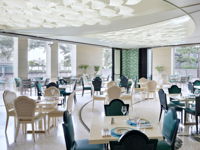 THE FRIDAY BRUNCH
أسبوعي يوم الجمعة, 1:00م - 3:00م
Indulge in a luxurious choice of international favourites including Italian, Arabic, Indian and a range of seafood options at the Giardino Brunch in Palazzo Versace Dubai. Relax in the comfortable settings of this fashion-inspired venue with a jungle allure that extends throughout the expansive outdoor terrace.
Enjoy the performances by our live band as you interact with our chefs over live cooking stations.
Brunch Packages:
AED 390 per person including soft beverages
AED 570 per person including selected house beverages
AED 720 per person including French bubbly
Children between 6-12 years dine at AED 195
أحجز الان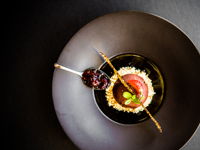 THE GREAT EASTER BRUNCH
1:00م - 4:00م
Celebrate Easter with an unforgettable family brunch. Offering a fun-packed corner for the children and a selection of delightful international cuisines, the Easter brunch is set to offer a fun day for the entire family. Savour classics such as Waldorf Salad, Eggs Benedict and the hotel's signature Red Velvet Cake, as well as the live cooking stations. Be entertained by the live saxophonist, magician and the spectacular DJ, as well as life-size games such as Connect4 or Jenga. A truly unforgettable afternoon with the family.
Early Bird offer: 20% off for bookings of 10-15 people or 30% off for bookings of 15-30 people until 10 April 2019
AED 375 per person inclusive of soft beverages
AED 495 per person inclusive of premium beverages
أحجز الان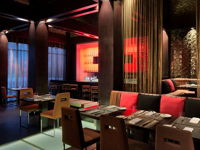 THE GREAT GATSBY NEW YEAR'S EVE PARTY
8:00م - 11:45م
Join us as we celebrate 2021 in style and dance like it's the roaring twenties! Enjoy the celebration with live entertainment.
Thursday | 31st December, 8pm - 3am
أحجز الان