تجارب في دبي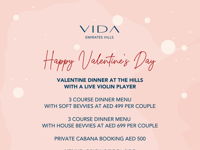 VALENTINE DINNER
7:00م - 11:00م
Valentine Dinner at the hills with a live violin player.
3-course dinner menu with soft bevvies at AED 499 per couple
3-course dinner menu with house bevvies at AED 699 per couple
Private Cabana Booking AED500
February 14th, from 7:00pm -11:00pm
أحجز الان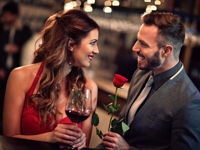 VALENTINE'S AT PEACOCK ALLEY
7:00م - 11:00م
Set in a romantic atmosphere, Peacock Alley offers an unforgettable date with tempting luxurious rose petal dinner featuring an opulent six-course menu with caviar, salmon nori and Waldorf Astoria signature dessert. Perfect for a grand gesture, this romantic setting is designed to ensure beautiful memories are created together.
Price: AED 2200 per couple
أحجز الان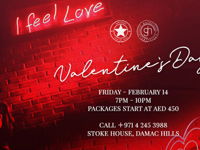 VALENTINE'S DAY
7:00م - 10:00م
Can you feel the love yet? Valentine's Day is just around the corner. Head down to Stoke House for an evening of romance with your special someone.

Packages:
AED 450 inclusive of a four-course meal with two glasses of sparkling
AED 595 inclusive of four-course meal with a bottle of sparkling wine
14th February 2020, 7:00 pm - 10:00 pm
أحجز الان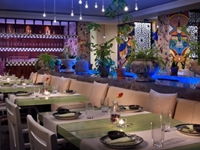 VALENTINE'S DAY
6:00م - 11:30م
The dance of love will be on the menu at Garden this Valentine's Day. Savour a Peruvian 3-course menu amongst a fun and vibrant setting with the option of indoor or outdoor seating. Dance the night away with Latin American tunes.
Price: AED 500 per couple including a Peruvian love potion welcome drink
أحجز الان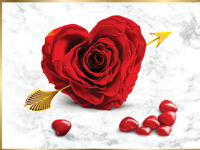 VALENTINE'S DAY
7:00م - 10:30م
Love is on the menu at Cafe Society. Share the unforgettable moments with friends and loved ones over perfectly crafted courses.
Price: AED 350
أحجز الان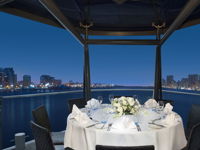 VALENTINE'S DAY
8:00م - 10:30م
Guaranteed window table for 02 that night there will be a supplement cost of AED 100 for the table.
❤AED 1,500 net for couple - House Spirit (AED 750/pp)
❤AED 1,350 net for couple - House wine and beers (AED 675/pp)
❤AED 1,150 for couple - Soft Drinks (AED 575/pp)
14th February 2020, Boarding is at 7:15 pm to 7:45 pm, The Cruise is from 8:00 pm to 10:30 pm.
أحجز الان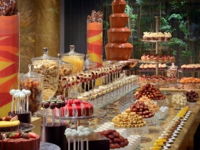 VALENTINE'S DAY
7:00م - 11:00م
Dive into love at Kitchen6 and enjoy a lavish seafood interactive cooking station with your partner for AED 225 per person, including soft beverages. 14 February, from 7:00 pm to 11:00 pm.
أحجز الان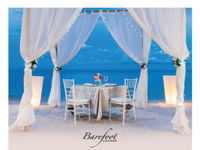 VALENTINE'S DAY
Barefoot Lounge Beachside Outlet
7:00م - 11:00م
Savour the love this Valentine!
Memorialize your valentines at a little private oasis with its own private bay! Book your cabana overlooking our sandy beach & a romantinc evening as the waves ashore right in front of you.
AED 1399 per couple Lavish 5 course set menu | unlimited soft beverages | a bouquet of roses for your lady | dinner invitation for the next visit.
Or book a BBQ Buffet on the Beach Garden for AED 395 per couple.
أحجز الان