نتائج البحث
تجارب في دبي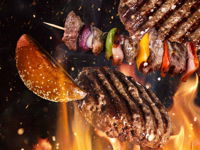 BBQ NIGHT
أسبوعي يوم الجمعة, 7:00م - 11:00م
If you have an appetite for savory, smokey or sweet barbecued food, then you are in for an absolute treat!
Our BBQ night will bring you only the highest quality in an incredibly
flavorsome way! Don't miss out on the indulgence - it will be a big 'missed steak'.
AED 180 per person
food & soft drinks
AED 250 per person
food & selected alcoholic
beverages
Free flow of selected house wines,
house spirits & house beers
Terms and conditions apply
Friday | 7:00pm - 11:00pm
أحجز الان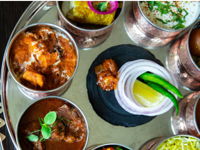 BB THALI LUNCH
أسبوعي أيام الاسبوع, 12:30م - 3:00م
AED 125 (Vegetarian and Non-Vegetarian option) / Not available on Saturdays
Monday - Friday, 12:30PM - 3:00PM
أحجز الان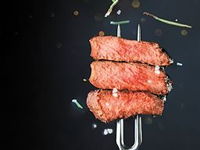 BEEF & BURGUNDY
شهري في 1الأول الخميس, 6:00م - 11:59م
Enjoy a five-course prime beef menu paired with distinct grapes.
Every first Thursday of the month, from 6pm until midnight
AED 595 per person, including a 5-course menu and paired beverages
أحجز الان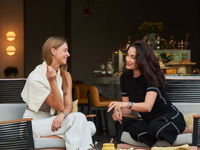 BEER & BURGER AT JUNIPER'S
يومي, 4:00م - 11:00م
Tuck into a mouth-watering Wagyu Beef Burger and top it off with a refreshing pint of American hops, every day for just AED 99 at Junipers.
Package: Burger and pint of American hops for AED 99
Venue: Junipers
أحجز الان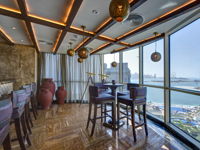 BOLLYWOOD NIGHT
أسبوعي نهاية الاسبوع, 5:00م - 11:00م
Every Saturday and Sunday 5:00 pm – 11:00 pm
Live DJ 7:00 pm – 11:00 pm
AED 150 per person
One of the top 5 North Indian restaurants in the city, Khyber restaurant brings an intricate and rich North Indian palette of flavours to Dubai. The award-winning outlet with its roots originating from India is renowned for its breath-taking murals, ornate details and incomparable North Indian delicacies. Located on the 15th floor of the Hotel, guests are transported into the heart of 'olden day Mumbai' through the authentic tastes, décor and soothing music. Savour nostalgic dishes with a quirky, new inventive flare.
أحجز الان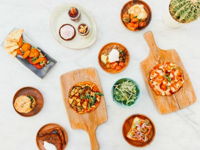 BREAKFAST
Bounty Beets at Le Meridien Dubai
أسبوعي أيام الاسبوع, 8:00ص - 12:00م
Start your day right at Bounty Beets over a hearty breakfast spread for just AED 79.
Monday – Friday from 08 AM – 12 PM
AED 79 for one savory dish, one sweet dish and one beverage
أحجز الان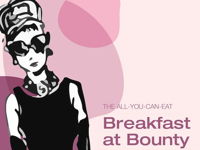 BREAKFAST BRUNCH
Bounty Beets at Le Meridien Dubai
أسبوعي نهاية الاسبوع, 9:00ص - 2:00م
Been working hard? You deserve a break to have an exciting Brunch at Bounty Beets at Le Meridien Dubai. Every Saturday & Sunday enjoy an all you can eat session with coffee, tea and juices included.
AED 99 for all you can eat menu inclusive of coffee, tea and juices.
Every Saturday & Sunday from 09 AM – 02 PM
أحجز الان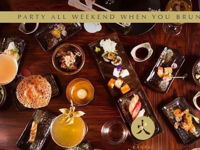 BRUNCH
أسبوعي يوم الجمعة و السّبت, 7:00م - 10:00م
Friday( 7pm - 10pm); Saturday ( 1pm - 4pm; 7pm - 10pm).
Packages starting from 399Aed.
أحجز الان