تجارب في دبي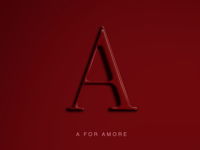 VALENTINE'S DAY
يومي, 7:00م - 11:00م
Make sure romance is on the menu this Valentine's Day with the perfect pairing of award - winning world cuisine and a starry-eyed setting in the shadow of the world's most iconic landmark at Armani Hotel Dubai.
Love the moment a little longer with a bespoke box of handcrfated Armani Chocolates as a sweet souvenir.
Armani Ristorante - AED 850 per person - all including one welcome drink.
أحجز الان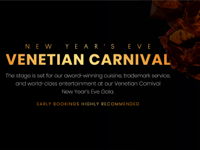 VENETIAN CARNIVAL
7:00م - 11:30م
The stage is set for our award-winning cuisine, trademark service, and world-class entertainment at our Venetian Carnival New Year's Eve Gala.
أحجز الان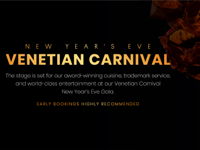 VENETIAN CARNIVAL
7:00م - 11:00م
Join us at the Venetian Carnival!
This will be an event filled with mystique and masks of all colours and design. Roberto's is ready to whisk you away into the romance that is a night in Venice.
Be enchanted by the dancing masked waltzers, dance along to DJ Sameer's unstoppable beats and dine, eating the finest dishes our chefs will create on the eve of the new year!
Take in the last night of the year and watch the jaw-dropping fireworks shoot from the Burk Khalifa from our exclusive terrace.
Celebrate the New Year in the confident hands of Roberto's Staff.
Book early to ensure a table.
أحجز الان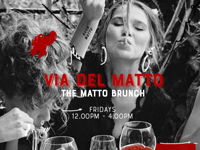 VIA DEL MATTO – THE MATTO BRUNCH
أسبوعي يوم الجمعة, 12:00م - 3:30م
Go straight, take a right, sharp left, and you've arrived at the Via del MATTO, where all your culinary dreams come true.
Via del MATTO / The MATTO Brunch / Every Friday from 12pm until 4pm
Attenti: don't step foot on the Via del MATTO if you can't handle the Italian streets. Not for the faint-hearted, think of all the sexy carbohydrates getting together in one room: wood-fired pizza, pasta, risotto, fresh homemade breads, cheese, cheese, and more cheese, Italian desserts, and so much more.
Brunch Packages
Eat Until You Can Eat No More (Then A Little More) - AED 180
Dining + Soft Drinks
Vino e Birra - AED 250
Dining + House Grapes & Hops
Pacco MATTO - AED 320
Dining + Selected Pouring Spirits, Cocktails & Prosecco
أحجز الان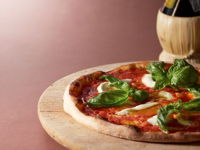 VIAGGIANDO ATTORNO ALL'ITALIA
أسبوعي يوم الأربعاء, 6:00م - 7:00م
Every month, set off on an escapade to explore Italy as Chef Francesco showcases traditional dishes and Aperitif from different regions of the country. In a blissful setting at the piazza, enjoy the sunset and relish specialty canapes and beverages.
AED 100 inclusive of 6 canapes and 1 beverage (cocktail or wine).
أحجز الان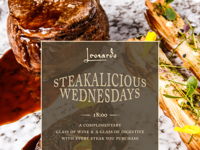 WEDNESDAY STEAKALICIOUS
أسبوعي يوم الأربعاء, 6:00م - 11:30م
A complimentary glass of wine & a glass of digestive with every steak you purchase.
أحجز الان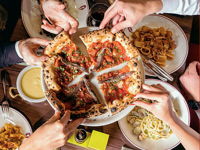 WEEKEND BRUNCH
أسبوعي يوم الجمعة و السّبت, 1:00م - 4:00م
Family-friendly brunch at Luigia. Serving up a selection of timeless recipes that can be enjoyed with your partner, friends, or the whole family the true Italian way.
Little ones under the of 7 dine for free and play in the dedicated children's corner fit with games and even a cinema to watch their favorite Disney movies.
Every Friday and Saturday, 1:00 pm - 4:00 pm
أحجز الان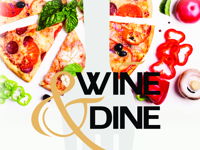 Wine & Dine
أسبوعي يوم الأحد و الإثنين, 5:00م - 11:00م
Any choice of Pizza or Pasta with a glass of wine only for AED 89.
أحجز الان