Restaurants in Dubai
Mercury Lounge
Four Seasons Resort at Jumeirah Beach, Jumeirah 2
Mediterranean
Lounge • $$
Reserve Now
Sea Fu Restaurant and Bar
Four Seasons Resort at Jumeirah Beach, Jumeirah 2
Seafood
Casual Dining • $$
Reserve Now
Experiences in Dubai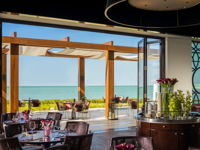 HAPPY KANPAI TIME
Daily, 5:00pm - 7:00pm
Daily from 5:00pm until 7:00pm –à 50% discount on selected beverages
(Walk-in only on Monday, Thursday, Friday and Saturday)
Reserve Now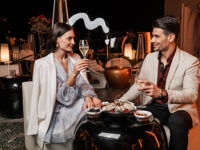 JET SET APERITIVO
Weekly on Fridays and Saturdays, 6:00pm - 8:00pm
The end of the week brings about an exciting opportunity to witness a sunset with drinks, curated to enhance this unique moment. Sunset chasers can enjoy a collection of sundowners. Fridays and Saturdays, 6:00 PM - 8:00 PM.
Reserve Now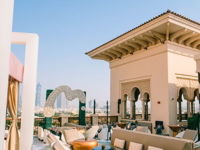 LADIES NIGHT
Weekly on Wednesdays, 8:00pm - 11:00pm
Get complimentary two glasses of Prosecco for every lady
Every Wednesday from 8-11pm
Reserve Now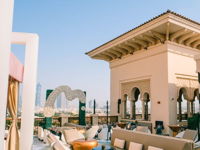 LA SERATA SICILIANA - A PARTY YOU CAN'T REFUSE
10:00pm - 11:59pm
Join us for a night of glamour, theatrics, and Sicilian drama at Dubai's favorite rooftop lounge. Welcoming the pleasant winter weather in style, this extraordinary evening will feel like a page out of a Mario Puzo novel with a spectacular interactive performance.
Date: 28 October 2021
Time: 10 PM to 3 AM
Entertainment: Sopranos, violins, cellos, DJ, five-piece band, and theatrical surprises
Entrance: Table reservations
Reserve Now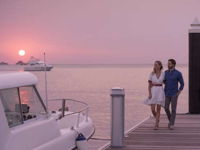 LOVE AT FIRST BITE
7:00pm - 11:30pm
Lit by glowing candles and a cool sea breeze, Sea Fu is the ultimate spot for a romantic evening for two. Guests can gaze into each other's eyes whilst enjoying a sensory inspired Asian menu that has been carefully crafted for this special day. The sounds of soulful live music will whisk guests away throughout the evening. Following dinner, couples are also invited to sink their toes into the sand and take a walk along the private beach beneath the moonlight. So whether couples are looking to rekindle, rediscover or simply recreate beautiful memories, Sea Fu is sure to say it all.
The set menu is AED 790 per couple. Available on 14th February only.
Reserve Now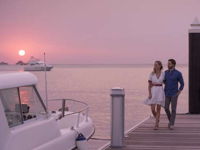 MEMORABLE MERCURY MOMENTS
7:00pm - 11:30pm
With views of the iconic Dubai skyline and the Burj Khalifa, the rooftop bar Mercury Lounge is the perfect setting to spend an evening amongst the stars with that special someone. Couples can enjoy an exclusive three course set menu of Mediterranean cuisine and rosé giveaway for ladies whilst the resident DJ sets the sounds throughout the evening.
AED 790 per couple. Available on 14th February only.
Reserve Now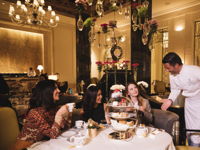 NEW YEAR'S DAY BRUNCH
Daily, 1:00pm - 4:00pm
SUQ's New Year's Day brunch buffet is the only way to begin 2019. The Four Seasons offers all gourmet lovers to relish in international flavours with friends and family to celebrate the first day of the year.
Reserve Now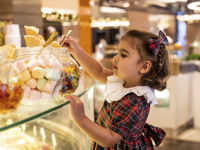 NEW YEAR'S EVE CELEBRATION
Daily, 6:00pm - 11:00pm
Welcome to the world of Four Season's Mercury Royal. Be ready to dress to impress as this is the hottest ticket town, for Mercury Lounge will have panoramic views of not one but two fireworks displays this New Year's Eve with fireworks illuminating the Dubai skyline as well as Four Seasons very own private show from the beach. Whether sipping Martini's, or dancing beneath the stars as the fireworks fill the sky, Mercury promises a night to remember.
Reserve Now