Restaurants in Dubai
Mercury Lounge
Four Seasons Resort at Jumeirah Beach, Jumeirah 2
Mediterranean
Lounge • $$
Reserve Now
Sea Fu Restaurant and Bar
Four Seasons Resort at Jumeirah Beach, Jumeirah 2
Seafood
Casual Dining • $$
Reserve Now
Experiences in Dubai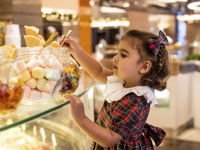 NEW YEAR'S EVE CELEBRATION
Daily, 8:00pm - 11:00pm
Sea Fu provides an idyllic setting to celebrate New Year's Eve against the backdrop of the Arabian Gulf's crystal clear waters. Guests are invited to indulge in a seven-course festive menu of delicious dishes and drinks, while the lively House DJ and saxophonist entertains. The countdown to 2019 will be an occasion to cherish forever as celebrators will have front row seats at a private fireworks display that will take place from Four Seasons' beautiful beachside location.
Reserve Now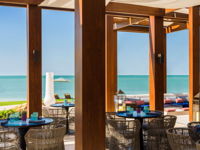 OMAKASE BRUNCH
Weekly on Saturdays, 1:00pm - 4:00pm
Saturday Omakase Brunch from 1 pm to 4 pm.
Sharing concept and served compulsively nonstop appetizers to desserts.
Featuring a DJ.
Price:
• Non-alcohol - 360 AED per person
• Medium (house wines, Prosecco, beer) – 560 AED per person
• Premium (house wines & spirits, Prosecco, beer, cocktail selection) – 660 AED per person
Reserve Now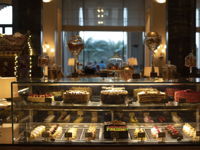 ORTHODOX CHRISTMAS
Daily, 1:00pm - 3:00pm
ndulge in a delicious buffet at SUQ where rich and hearty Orthodox specialties will be served. Gather friends and family to celebrate all together in a warm and welcoming ambiance.
Reserve Now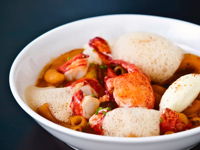 SEASIDE BRUNCH
Weekly on Saturdays, 1:00pm - 3:45pm
Go ahead, sleep in. Then join us at Sea Fu from 1:00 to 4:00 pm, when our savoury Okonomyaki Omelette and Akami Pizza are on the menu, and a live DJ enhances the lively beachside atmosphere.
Reserve Now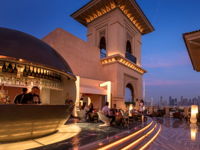 STAR FILLED SKIES
Weekly on Sundays, Mondays, Tuesdays, Wednesdays, and Thursdays, 6:00pm - 11:00pm
We can give you the stars - from our stunning rooftop bar Mercury Lounge. Take in the striking skyline of downtown Dubai stretching from Burj Khalifa to the sparkling waters of the Arabian Gulf. Whether you join us for an evening Aperitivo and watch as the sun sets or graze on a spread of Mediterranean sharing plates accompanied by live entertainment, Mercury Lounge has something for everyone.
Weekdays | 6:00 pm -2:00 am (3:00 am Wednesday to Friday)
Reserve Now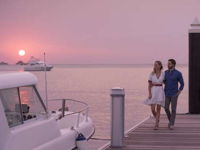 SUMPTUOUS SUQ
7:00pm - 11:30pm
Indulge in Suq's scrumptious Valentine's Day Brunch in a warm and inviting atmosphere complete with live entertainment and a tantalising buffet of dishes from around the world. Interactive live cooking stations, an array of seafood, Arabian specialties and international favourites, along with freshly prepared treats, each with that added Valentine's touch. Love is in the air at Suq's Valentine's Brunch.
The Valentines Brunch is priced at AED 375 inclusive of soft beverages. Ladies will be offered the Beverage Package complimentary when the Gentleman partner purchases a package for himself. Available on Valentine's Day, 14th February.
Reserve Now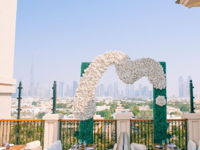 TASTE OF RIVIERA
Daily, 6:00pm - 9:00pm
Watch the sunset over the city while sipping cocktails and indulging in crispy parmesan lollipops, vegetable tempura, and more from our extraordinary menu, perfect for sharing.
Reserve Now