Restaurants in Dubai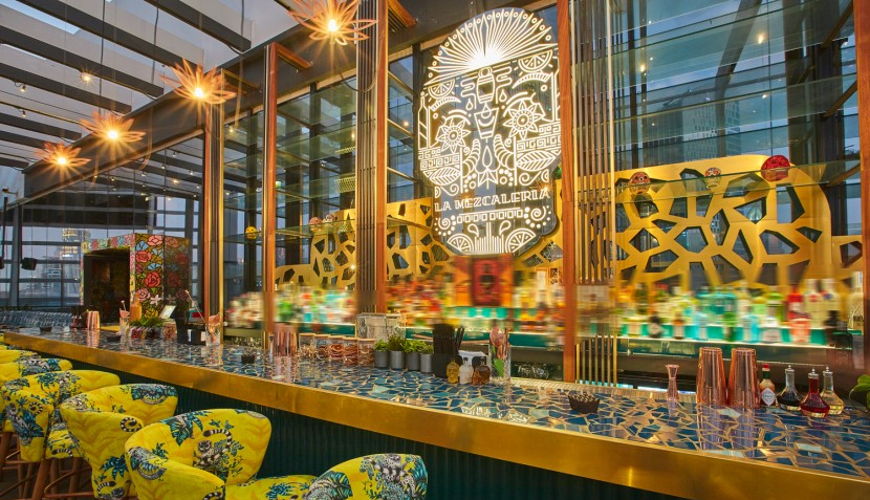 La Mezcaleria Dubai
Oberoi Hotel, Level 27, B1 Entrance
Latin American
Casual Dining • $$
Reserve Now
Experiences in Dubai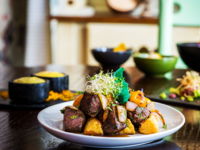 MIX UP YOUR BRUNCH-CAPADES
1:30pm - 4:00pm
Prefer to satiate that appetite with something sweet? Look no further than the Wanderlust Brunch by Italian baker, Melissa Forti.
Reserve Now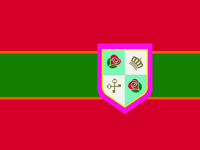 MONTH OF INDEPENDENCE
Daily, 5:30pm - 10:45pm
September is the month for certain Latin American countries celebrating their independence.
"Darlings, my fabulous bartenders have created rebellious concoctions dedicated to the people of Brazil, Chile, Costa Rica, El Salvador, Guatemala, Honduras, Mexico and Nicaragua. Show me your Latin American passport and get treated to a delightful cocktail!"
Reserve Now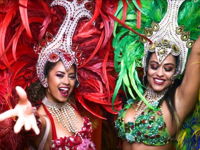 MS BUENDIA'S LADIES NIGHT
Weekly on Tuesdays, 5:30pm - 11:45pm
Every Tuesday, 5.30pm-12am
Hotel Cartagena invites ladies of Dubai to tap into their inner free spirit at a weekly ladies night for darlings who deserve it! Taking inspiration from the lounge's gilded birdcage, the decadent potions brings together bespoke art, and fashion in an unforgettable evening designed to unleash desire and welcome decadence with open arms. Offering 30% off main dishes and four complimentary beverages to ladies for daring dilettantes, guests will experience Latin America without borders; from Cuba to Puerto Rico to Colombia, imbued with the flair of the Caribbean.
Ms Buendia's Ladies Nights is 30% off on all main dishes and 4 beverages upon ordering mains
Reserve Now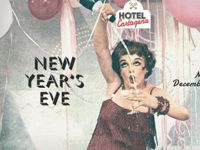 NEW YEAR'S EVE BRUNCH
Daily, 8:30pm - 11:00pm
Escape with me into the New Year, Darling. With the highest views of the Burj Khalifa, I've organized a Night Brunch to die for, so throw on your most flirtatious, you never know what could happen!
Reserve Now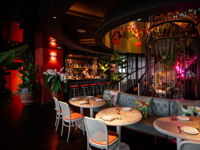 NEW YEAR'S EVE BRUNCH
9:00pm - 11:30pm
Night Brunch from 9pm to 1am, after which a la carte service will be available for drinks only.
AED 590 Non-Alcoholic Package (sharing set food menus including soft drinks and selected mocktails)
AED 690 Alcoholic Package (sharing set menu including House pouring beverages plus sparkling wine)
Entertainment: DJ Lins along with live performances.
Dress Code: Pirates of the Caribbean
Reserve Now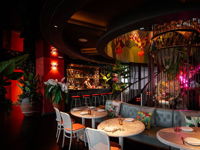 NEW YEAR'S EVE CELEBRATION
Daily, 9:00pm - 11:59pm
Celebrate the New Year at Hotel Cartagena with an exclusive night brunch featuring live performances and epic tunes by resident DJ Kio.
31st December, 9:00pm-1:00am
AED 799 (house beverages
AED 899 (bubbles)
Reserve Now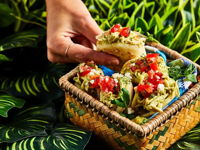 NEW YEAR'S EVE CELEBRATION
8:00pm - 11:59pm
Experience a delicious tex-mex inspired menu while being surrounded by stunning views of the Burj Khalifa fireworks fro the rooftop along with live entertainment.
31st December, 8:00pm
AED 1000 (fountain table)
AED 1200 (lounge & window tables)
AED 1500 (Burj Khalifa views)
Reserve Now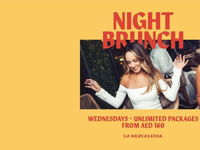 NIGHT BRUNCH - EVERY WEDNESDAY
Weekly on Wednesdays, 9:00pm - 11:45pm
Enjoy La Mezcaleria DXB NEW night brunch experience every Wednesday from 9pm until 12am. See you there angels 💋
Packages:
AED 160Free – flowing soft drinks
AED 220 Free – flowing wine and beer
AED 310 Free flowing wine, beer, spirits, cocktails and Prosecco
Reserve Now