Restaurants in Dubai
1
Experiences in Dubai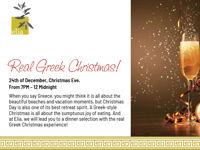 REAL GREEK CHRISTMAS
7:00pm - 11:30pm
When you say Greece, you might think it is all about the beautiful beaches and vacation moments, but Christmas Day is also one of its best retreat spirit. A Greek-style Christmas is all about the sumptuous joy of eating. And at Elia, we will lead you to a dinner selection with the real Greek Christmas experience!
AED 299 per person inclusive of soft drinks & mineral water
AED 399 per person inclusive of unlimited house wine, ouzo & regular spirit
24th December 2019 | 7:00 pm - 12 midnight
Reserve Now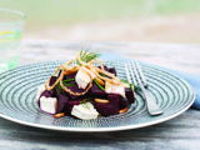 UNDER THE STARS GALA DINNER
Daily, 8:00pm - 11:00pm
When the clock strikes midnight, you will have the best seats in the house to watch the spectacular New Year's Eve fireworks display across Madinat Jumeirah's stretch of beach.
Reserve Now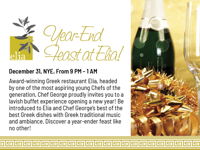 YEAR END FEAST
9:00pm - 11:00pm
Award-winning Greek restaurant Elia, headed by one of the most aspiring young Chefs of the generation, Chef George proudly invites you to a lavish buffet experience opening a new year! Be introduced to Elia and Chef George's best of the best Greek dishes with Greek traditional music and ambiance. Discover a year-ender feast like no other!
AED 299 per person inclusive of soft drinks & mineral water
AED 399 per person inclusive of unlimited house wine, ouzo & regular spirit
31st of December, From 9:00 pm -1:00 am
Reserve Now