تجارب في أبوظبي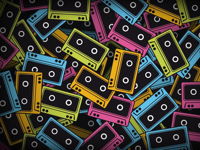 BACK TO THE 80's NYE PARTY
8:00م - 11:30م
On New Year's Eve, Assymetri will take you back to the 80's as you dine under the stars and indulge on mouthwatering seafood, sushi, succulent barbeque grills, desserts, and plenty of international food stations. We are giving you the full 80's experience as you are greeted with a flashy buntings and cd's and poolside entertainment on a floating stage, yes you read it right! All performances will be on a floating stage in pool.
PACKAGE
Dinner & soft drinks – AED 390* per person
Dinner & house beverages – AED 595* per person
Kids from 6 to 11 years old – AED 125*
*All prices are in UAE dirham and are inclusive of all applicable service charges, local fees & 5% VAT
أحجز الان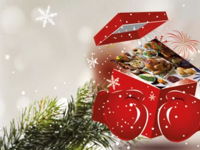 BOXING DAY BRUNCH
12:30م - 4:00م
Bask in a special holiday brunch from the culinary team featuring the season's favorites and classic Christmas dishes. Expect laidback vibes on the terrace by the mangroves with live music in the background.
AED 245 soft beverages | AED 345 house beverages
Saturday, 26 December 2020 | 12.30 pm – 4.00 pm
أحجز الان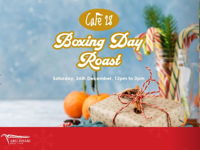 BOXING DAY ROAST
12:00م - 3:00م
After a day full of festive cheer, continue the celebrations with us on Boxing day.
Member AED 165 | Guest AED 185 (Food only)
Children AED 99 per child (5 to 12 yrs old)
26th December 2020 | 12pm - 3pm
أحجز الان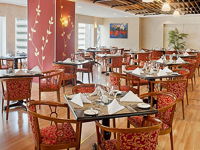 BUBBLY BRUNCH
12:00م - 4:00م
Enjoy lazy light bubbly brunch at the Garden from 11:30 am till 4:00 pm.
AED 149 for soft package
AED 199 unlimited house beverage
AED 229 unlimited bubbly
1st January 2020 | 11:30 am - 4:00 pm
أحجز الان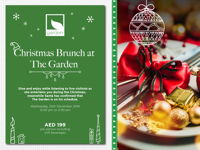 CHRISTMAS BRUNCH
12:30م - 4:30م
Exchange season's greeting with friends and family over a lovely Christmas Brunch at the Garden restaurant on the 25th December 2019 from 12:30 pm till 4:30 pm. While listening to live violinist as she entertains you during the Christmas Meanwhile Santa has confirmed that the Garden is on his schedule, as your little ones will enjoy especial treatment with face painting, games room and kids buffet area and movies, kid's room in action with many activities for your little ones. Oh and more a performance by an in-house choir.
AED 199 per person soft package
AED 249 with unlimited Mixed drinks
AED 299 inclusive of bubbly
25th December 2019 | 12:30 pm - 4:30 pm
أحجز الان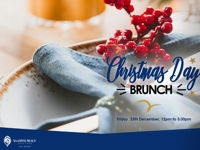 CHRISTMAS DAY BRUNCH
12:00م - 3:30م
Come and bring the whole family, we are offering an excuisite afternoon full of all the seasonal favorites, delicious international and contemporary cuisine, and three hours of unlimited beverages. With live Festive entertainemnet.
Member AED 385 | Guest AED 399 House beverages
Member AED 250 | Guest AED 285 Soft beverages
Children AED 120 (5 to 12 yrs old)
Children below 5 years old are free
Brunch extended package AED 180 unlimited house beverages for 3 hours.
25th December 2020 | 12pm - 3:30pm
أحجز الان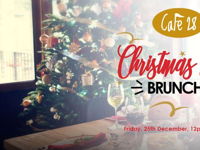 CHRISTMAS DAY BRUNCH
12:00م - 3:30م
Cherish this Christmas with the company of friends and family with a festive day brunch. Couple your meal with delightful cocktails and house beverages along with a wholesome spread of Chef's specially curated delicacies that ring in the Spirit of Christmas in a lavish festive carvery buffet for you and your loved ones.
With a live performer and a surprise gift for children.
Member: AED 399 | Guest AED 420 House beverages
Member AED 320 | Guest AED 350 Soft beverages
Children AED 120 per child (5 - 12 yrs old)
Brunch extended package AED 180 unlimited house beverages until 6:30 PM
25th December 2020 | 12pm - 3:30pm
أحجز الان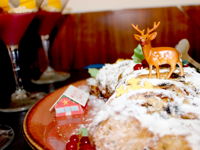 CHRISTMAS DAY BRUNCH BUFFET
1:00م - 4:00م
A FAMILY CHRISTMAS BRUNCH AT ASSYMETRI
On Christmas Day, we will be serving a traditional Christmas brunch for the whole family. Delight yourself with mouth-watering food stations showcasing Christmas specialties from around the globe in Assymetri.
PACKAGE:
Soft Package AED 195*
Alcoholic Package AED 340*
Kids AED 90*
أحجز الان