المطاعم في أبوظبي
1
تجارب في أبوظبي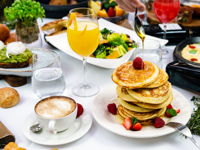 ALL DAY BREAKFAST
أسبوعي يوم الجمعة, 12:00م - 4:00م
Inspired by Italian and European breakfasts, the brunch is served every Friday from 12noon to 4pm – meaning that guests can treat themselves to their favourite meal at any time of the day, whether that be scrambled eggs with burrata and datterino at 12noon or the tastiest French toast with coffee and mascarpone cream at 4pm.
Additional dish options include a traditional Roberto's English breakfast, egg royale and smashed avocado on toast with poached eggs, to name a few. The family-friendly restaurant will also be offering a menu for the kids, meaning those under six can dine for free with a separate kids' area keeping them entertained all day long.
أحجز الان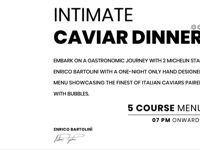 BARTOLINI MICHELIN STAR
7:00م - 11:30م
Embark on a gastronomic journey with 2 Michelin star Enrico Bartolini with a one-night only hand designed menu showcasing the finest of Italian Caviars paired with bubbles.
Thursday 25th April | 5 course
7 pm onwards | AED 495
أحجز الان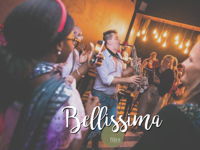 BELLISSIMA
7:00م - 11:30م
Join us every Monday at the Filini Garden for Bellissima Ladies Night.
Ladies can enjoy free flow bubbles from 7pm until 12am for just 55AED plus 50% discount on our fabulous food menu
DJ Cliff Townley supplies the accompanying soundtrack all all things house alongside crowd favourite Milan Ivkovic on Sax
Age Policy: 21+
Smart Casual: Dress Code
أحجز الان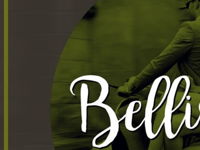 BELLISSIMA MONDAYS
أسبوعي يوم الإثنين, 7:30م - 11:30م
Filini's Signature Ladies Night.
Free Flow Sparkling Wine for Ladies from 9pm -12am – AED 55. Ladies receive 50% discount on set menu food items.
Live DJ Soulful/Vocal House
أحجز الان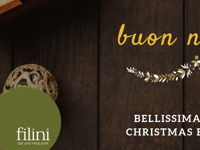 BELLISSIMA MONDAYS CHRISTMAS EDITION
يومي, 5:00م - 11:00م
Filini Garden is the perfect place to celebrate Christmas in style! This award-winning dining & nightlife venue has an indoor and outdoor seating area with views of the golfing greens. Feast on a decadent 3-course Italian sharing menu with a choice of 4 starters, 4 mains, and 4 desserts. The celebrations don't end there as you dance the night away to beats and sounds by DJ Cliff Townley and live sax entertainment by Milan.
أحجز الان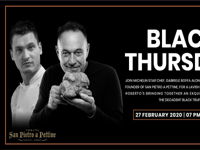 BLACK THURSDAY
7:00م - 11:00م
Join Michelin Star Chef, Gabriele Boffa alongside Carlo Caporicci, for a lavish degustation dinner at Roberto's bringing together an exquisite menu featuring the decadent black truffle.
Don't miss this sensational 5 course degustation menu for just 495 AED per person. Book your table now.
27th February 2020, 7:00 pm - 11:00 pm
أحجز الان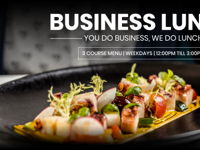 BUSINESS LUNCH
أسبوعي يوم الأحد, الإثنين, الثّلاثاء, الأربعاء, و الخميس, 12:00م - 3:00م
Available weekdays at AED 90.
أحجز الان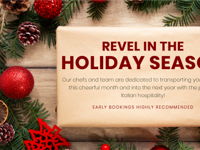 CHRISTMAS BRUNCH
12:00م - 4:00م
Christmas Brunch 20th & 27th December 2019 | 12pm till 4pm
Soft Drinks | AED 295 per guest
House | AED 395 per guest
Riserva | AED 495 per guest
Champagne | AED 590 guest
أحجز الان