تجارب في دبي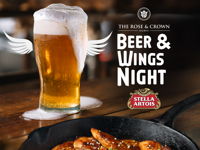 BEER & WINGS NIGHT
أسبوعي يوم الإثنين, 11:00ص - 11:30م
Unlimited Beer & Wings for two hours, every Monday, AED 150.
أحجز الان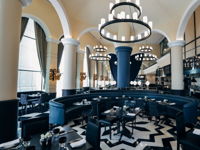 BEST DRESSED BRUNCH
6:30م - 11:00م
AED 500 prize up for grabs for the best festive outfit at our Great British Restaurant.
AED 225* | House Beverages
AED 199 | 6-12 years old
19th December | 6:30 pm -11:00 pm
أحجز الان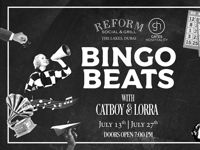 BINGO BEATS
شهري في اليوم الـ 13الثالث عشر و 27 من الشهر, 7:00م - 9:00م
Launching on the first Monday of July, Bingo Beats with Catboy & Lorra will be held on alternative weeks at Reform Social & Grill, The Lakes and Stoke House, Trump International Golf Course.

Teams are required to sign up in advance and will be asked to download an link in advance of the game as part of the venues new social distancing measures. While traditional bingo rounds will apply, music rounds will also be thrown into the mix.

Prizes for first, second and third place will be confirmed on the evening.

Where: Reform Social & Grill, The Lakes Dubai
When: Monday 13th July and Monday 27th July
Offer:
Table of 2 AED 280
Table of 4 AED 450
أحجز الان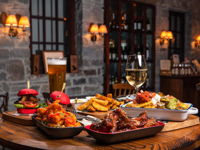 BOTTOMS UP THURSDAY NIGHT BRUNCH
أسبوعي يوم الخميس, 8:30م - 11:30م
Every Thursday from 8PM to 11PM, Copper Dog presents a late night brunch, with your favorite Pub Grub dishes and bottomless beverages, to start the weekend with that Local Pub feeling.
Guest will enjoy sliders, Mc&Cheese, Pork Ribs, Wings , Pork belly , nachos and other classics, paired with cold beers, house drinks and cocktails.
DJ set
Spend the night treating yourself to your favorite dishes and catch a game of pool or beer pong on our game room.
House Beverages: AED 295
Non Alcoholic: AED 195
After Party: 3 drink tokens for AED 100
Happy Hour from 5PM to 8PM
أحجز الان
BRITISH KEBAB & CURRY NIGHT
أسبوعي يوم الثّلاثاء, 5:00م - 11:00م
Come and try a unique menu of Indian inspired British Kebabs and Curries every Tuesday. Enjoy a British take on these classic dishes as you chill at The Croft's garden sipping your favourite beverages.

Every Tuesday, 6pm - 11pm
Starting from AED 60
أحجز الان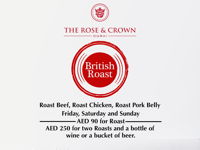 BRITISH ROAST
أسبوعي يوم الأحد, الجمعة, و السّبت, 11:30ص - 11:30م
If you're at a British pub, you have to try the Great British Roast. Choose between roasted chicken, beef or pork belly and enjoy your main course served with Yorkshire pudding, roasted potato, vegetables and gravy.
AED 90 for main course
AED 250 for two main course + bottle of wine or a bucket of beer.
أحجز الان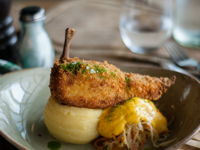 BRITS ABROAD
أسبوعي يوم الأربعاء, 6:00م - 8:00م
Parlez vous anglias por favor? We may not know the jargon but we beg your pardon if you say us brit don't know how to take something we like and make it our own.
Join us every Wednesday for a set menu of dishes us brits can't live without!
أحجز الان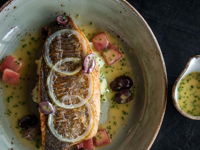 BUSINESS LUNCH
أسبوعي يوم الأحد, الإثنين, الثّلاثاء, الأربعاء, و الخميس, 12:00م - 2:00م
For lunch, enjoy it long and leisurely or short and sweet, because there's no time like the present to schmooze those clients.
أحجز الان