Experiences in Abu Dhabi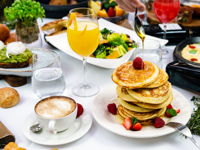 ALL DAY BREAKFAST
Weekly on Fridays, 12:00pm - 4:00pm
Inspired by Italian and European breakfasts, the brunch is served every Friday from 12noon to 4pm – meaning that guests can treat themselves to their favourite meal at any time of the day, whether that be scrambled eggs with burrata and datterino at 12noon or the tastiest French toast with coffee and mascarpone cream at 4pm.
Additional dish options include a traditional Roberto's English breakfast, egg royale and smashed avocado on toast with poached eggs, to name a few. The family-friendly restaurant will also be offering a menu for the kids, meaning those under six can dine for free with a separate kids' area keeping them entertained all day long.
Reserve Now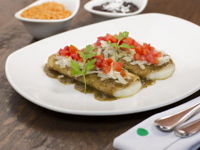 ANTOJITOS AND TUNES
Loca Restaurant & Bar Abu Dhabi
Weekly on Mondays, 7:00pm - 10:00pm
Time to explore the exciting 'Mexican Street Food' evenings, also known as Antojitos (literally 'little cravings'), designed by the talented Mexican Chef Juan and his team. With dishes like Dorada de pollo chipotle and Arrachera beef with red chilaquiles, revelers can expect flamboyant feasts, heel-clicking rhythms and flowing spirits that are set to revitalise the Abu Dhabi social scene.
Reserve Now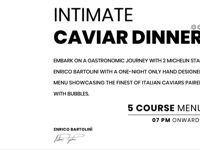 BARTOLINI MICHELIN STAR
7:00pm - 11:30pm
Embark on a gastronomic journey with 2 Michelin star Enrico Bartolini with a one-night only hand designed menu showcasing the finest of Italian Caviars paired with bubbles.
Thursday 25th April | 5 course
7 pm onwards | AED 495
Reserve Now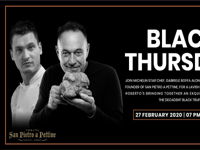 BLACK THURSDAY
7:00pm - 11:00pm
Join Michelin Star Chef, Gabriele Boffa alongside Carlo Caporicci, for a lavish degustation dinner at Roberto's bringing together an exquisite menu featuring the decadent black truffle.
Don't miss this sensational 5 course degustation menu for just 495 AED per person. Book your table now.
27th February 2020, 7:00 pm - 11:00 pm
Reserve Now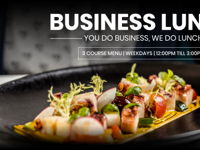 BUSINESS LUNCH
Weekly on Sundays, Mondays, Tuesdays, Wednesdays, and Thursdays, 12:00pm - 3:00pm
Available weekdays at AED 90.
Reserve Now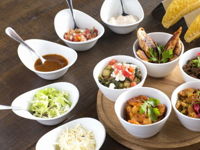 BUSINESS LUNCH
Loca Restaurant & Bar Abu Dhabi
Weekly on Sundays, Mondays, Tuesdays, Wednesdays, and Thursdays, 12:00pm - 2:00pm
Fun-loving UAE restaurant Loca has introduced a brand-new lunch menu from 12pm – 3pm, meaning that business meetings will never be boring again. Priced at just AED 95 per person, Loca's new wallet-friendly two-course menu showcases some of the Mexican's most popular dishes, Including soft drinks and coffee. Created by native Head Chef Juan Flores, highlights include fresh ceviche, decadent deep-fried Jalapenos, Loca's famous fish tacos and a mushroom and pepper-packed chimichanga for the veggies.
Reserve Now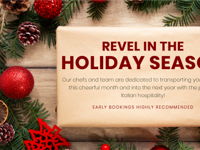 CHRISTMAS BRUNCH
12:00pm - 4:00pm
Christmas Brunch 20th & 27th December 2019 | 12pm till 4pm
Soft Drinks | AED 295 per guest
House | AED 395 per guest
Riserva | AED 495 per guest
Champagne | AED 590 guest
Reserve Now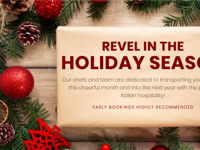 CHRISTMAS BRUNCH
12:00pm - 4:00pm
Christmas Brunch 20th & 27th December 2019 | 12pm till 4pm
Soft Drinks | AED 295 per guest
House | AED 395 per guest
Riserva | AED 495 per guest
Champagne | AED 590 guest
Reserve Now