Experiences in Abu Dhabi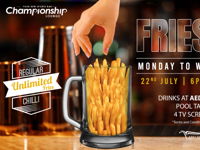 FRIES UP
6:00pm - 11:30pm
At the Championship Lounge, become a champion in our prestigious sports bar, where you can enjoy a round of billiards while you watch your favorite games being played out on four large TV screens around the room. With unlimited Chilly or Regular Fries on our compliments, while you
enjoy happy hour drinks, making the Lounge truly the Home of Champions, so put your FRIES UP and celebrate.
Traditional bar gratis is served everywhere, but at championship Lounge we take it to next level and enhance this with mouthwatering signature fries on our chef courtesy. The bar is famous for its classic gourmet burgers, delicious wings, shepherd's pie, and short ribs
For those looking for anything from beer to high-end single malts for a price that's generous to you, look no further. With one of the longest happy hours in Abu Dhabi, we are open from 4pm onwards with our house drinks for just AED 21, Most importantly your wallet will never be stressed as
we don't believe in ++ all our pricing is on net which fit for Champions.
When you are searching for a comfortable and luxurious location to unwind and watch your favorite sports games live, enjoy a drink and, of course, have Unlimited Fries, look no further than right there at the Abu Dhabi Golf Club. Remember that you will always be treated like a Champion in
the Championship Lounge.
Reserve Now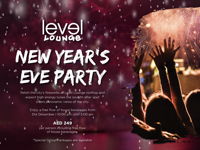 NEW YEAR'S EVE PARTY
10:00pm - 11:30pm
Rooftop New Year's Party at Level Lounge Under the night sky at the Crowne Plaza Abu Dhabi Hotel on New Year's Eve. Expect high-energy tunes the sought-after spot offers panoramic views of the fireworks from the City, Relish the city's fireworks at level lounge rooftop on New Year's.
Enjoy a free flow of house beverages from 10:00 pm until 3:00 am at AED 249 per person.
31st December 2019 | 10:00 pm - 3:00 am
Reserve Now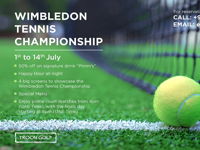 WIMBLEDON TENNIS CHAMPIONSHIP
Daily, 4:00pm - 11:30pm
Game On! The World's most famous tennis tournament "Wimbledon Tennis Championship" at the Home of Champions, Abu Dhabi Golf Club!
Live indoor screenings of Wimbledon matches on 4 big screens will take place at The Championship Lounge of Abu Dhabi Golf Club for the duration of the legendary two-week tournament
(Monday 1st July – Sunday 14th July).
The Championship Lounge will provide a special menu, signature "Pimm's" drink for visitors to enjoy while watching the matches on the 4 big screens. Tennis fanatics can sit and enjoy prime court matches from 4pm (UAE Time), with the finals days starting at 5pm (UAE Time).
50% Off on Pimm's and Happy Hour All Night
Don't miss a moment of the action!
*Pre-booking is required
**Terms and Conditions apply.
Reserve Now