Restaurants in Dubai
1
Experiences in Dubai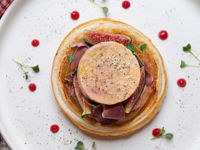 COUQLEY'S FESTIVE SEASON MENU
Daily, 12:00pm - 11:00pm
Enjoy a two-course meal that will satisfy your French Gastronomic palates at a fraction of the cost! AED 149 before 7:30 PM and AED 189 after 7:30 PM. Enjoy Happy Hour Grapes if you are on the Festive Menu (AED 99/Bottle and AED 21/Glass)!
Reserve Now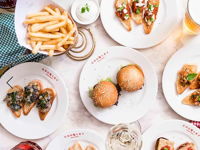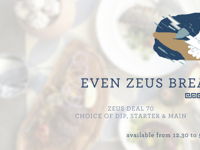 EVEN ZEUS BREAKS FOR LUNCH
Weekly on Sundays, Mondays, Tuesdays, and Wednesdays, 12:30pm - 4:30pm
Zeus Deal AED 70 - pick a dip, starter and main from a good selection where everything feels fresh, healthy and fun.
Zeus Express AED 45 - allows a choice of salad and gyros – just the right combination of quick and fulfilling.
Reserve Now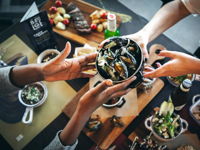 FRIDAY BRUNCH
Weekly on Fridays, 1:00pm - 4:00pm
Indulge yourself with a wide variety of our most famous, traditional Belgian dishes to share with your family without any hassle!
Reserve Now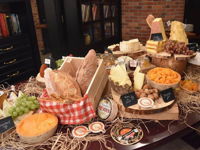 FRIDAY CHEESE NIGHT
Weekly on Fridays, 7:00pm - 11:00pm
Enjoy a variety of cheeses from France, Italy and Switzerland
Fridays, 7:00 pm - 11:00 pm
Reserve Now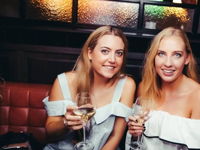 FRIDAY LADIES NIGHT
Weekly on Fridays, 8:00pm - 11:00pm
Ladies enjoy 3 complimentary drinks OR go all out with our unlimited drinks package including premium drinks such as Sparkling Wine and Kriek Belle-Vue for just 100 AED!
Reserve Now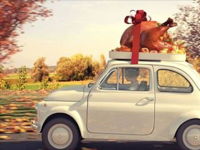 GET YOUR TURKEY ON
Daily, 12:30pm - 11:00pm
Gobble up delicious turkey and pie this Thanksgiving.
Your favorite holiday dishes will be elevated with our Chef's touch that will for sure please everyone from picky kids to grandma herself.
Reserve Now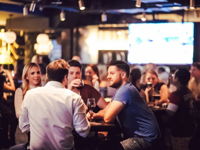 HOPS & SPORTS
Weekly on Weekends, 12:00pm - 11:30pm
We feel so lucky to be a place many of you come to celebrate special moments but also to enjoy your favorite drinks at the bar.
Every Sunday & Saturday from 12PM onwards you can enjoy Live Sports with a bucket deal of 5 Stella Artois for 100AED or go for a burger and a pint for just AED100.
Reserve Now