Experiences in Dubai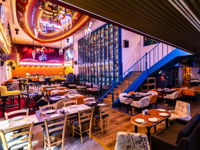 POP-UP ANTIKA NIGHT IN BASE DUBAI
10:00pm - 11:30pm
The night is filled with entertainment and performances Featuring the amazing performance of Nader El Atat all the way from Lebanon. Entertainment does not stop as the night is filled with belly dancing, fire and acrobatic shows, The sounds of the night will be covered by our in-house talented DJ Rony Booz.
• Shisha is available starting at 250 AED only at lounges ( Different pricing for lounge)
• High Table booking starting at 2,000 AED minimum spend
• Walk in tickets are available with ladies at 100 AED and gents at 200 AED including 1 drink
5th March 2020, 10:00 pm till 4:00 am
Reserve Now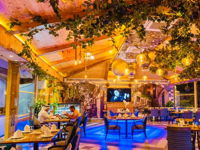 SEWAR GARDEN FESTIVAL
Daily, 12:00pm - 11:45pm
1st - 31st December, 12pm - 3am
Delight in a selection of international festive food, a variety of beverages and an array of shisha flavours.
Festive themed á la carte menu available.
20% discount for hotel guests and
15% discount for advance booking
Reserve Now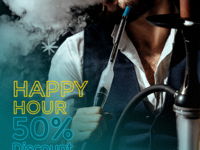 SHISHA HAPPY HOUR
Daily, 4:00pm - 7:00pm
50% on Shisha daily from 4 PM to 7 PM
Reserve Now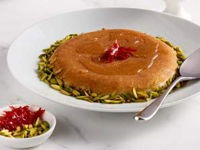 THE FLAVOURS OF NOSTALGIA
Weekly on Sundays, Tuesdays, Wednesdays, Thursdays, Fridays, and Saturdays, 7:00pm - 11:15pm
Enjoy traditional delicacies created from recipes handed down over generations within intimately enchanting settings. Discover why it is that the past defines the future, as the legacy of the yesteryears creates moments to cherish for life.
Price per person:
AED 320 - Berytus Set Menu
AED 399 - Ayamna Set Menu
Reserve Now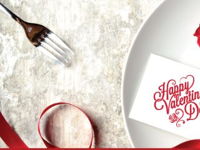 VALENTINE'S DAY
Al Qasr Restaurant Dubai Marine
7:00pm - 11:00pm
Explore the romantic mysticism of Arabia & let your taste bud sample the finest Lebanese cuisine complimented by live entertainment.
Price: AED 495 per couple | set menu with soft beverages
Reserve Now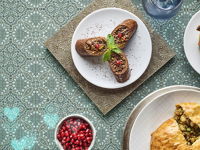 VALENTINE'S DAY
7:00pm - 11:00pm
Take your partner to Ayamna this Valentine's Day and be served with 10-courses of love by chef Ali El Bourji! Indulge yourself in chef Ali's signature dishes like Eggplant Moutabal, Hommous, Rolled Kebbeh Mabroumeh and Lamb Kofta. With live entertainment by Rafka and the band, George Madi on the saxophone and belly dancing your night of love is complete.
• Price: AED 300 per person for a 10-couse set menu
• Live Entertainment: Belly dancing, Rafka and the band, George Madi on the saxophone
Reserve Now