Experiences in Dubai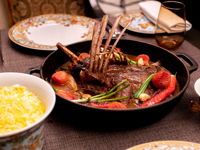 A THEATRICAL DINING EXPERIENCE AT ENIGMA
Weekly on Mondays, Tuesdays, Wednesdays, Thursdays, Fridays, and Saturdays, 7:00pm - 11:00pm
Persian culinary tradition is reinterpreted at Enigma with the thoughtful and subtle additions of Michelin starred Chef, Mansour Memarian. Inspired from his Iranian origins, Chef Mansour has developed a creative gastronomic experience of truly authentic Persian cuisine with his unique twist.
Price – AED 600 (for two persons)
Available from Monday to Saturday at Enigma, Palazzo Versace Dubai
Reserve Now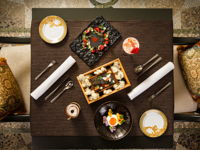 IRANIAN FRIDAY LUNCH
Weekly on Fridays, 12:00pm - 4:00pm
With a collection of well-crafted Iranian dishes by our very own 2-Star Michelin Executive Chef, Enigma is the perfect venue for a post prayer lunch. Every Friday, families can gather together, share stories of the week and enjoy each other's company over sumptuous Iranian cuisine.
Reserve Now