Explore guides in Bahrain
Looking for experiences in Bahrain?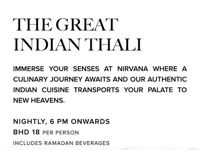 THE GREAT INDIAN THALI
Weekly on Sundays, Mondays, Tuesdays, Wednesdays, Thursdays, and Fridays, 6:00pm - 11:30pm
Immerse your senses at Nirvana where a culinary journey awaits and our authentic Indian cuisine transports your plate to new heavens.
Nightly, 6:00pm onwards
BHD 18 per person (includes Ramadan beverages)
Reserve Now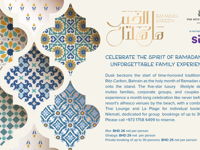 THE SPIRIT OF RAMADAN WITH UNFORGETTABLE FAMILY EXPERIENCES AT LA PLAGE
Daily, 6:00pm - 8:00pm
Iftar from Sunset until 8 p.m. nightly. BHD26 net per person.
• Ghabga from 9 p.m. until 1 a.m. BHD29 net per person.
Live entertainment nightly from 9:30 p.m. until 1 a.m.
• Cabana at BHD200 – seats 6 persons.
Sea breeze special private arrangement available upon request.
• Shisha service available:
Regular BHD9 net
Special BHD12 net
Reserve Now