Description
Step into the soothing surroundings of your Mediterranean lounge in the sun and on Palm Jumeirah.
Hours
Sunday

Closed

Monday

5:00pm-11:00pm

Tuesday

5:00pm-11:00pm

Wednesday

5:00pm-11:00pm

Thursday

2:00pm-12:00am

Friday

2:00pm-12:00am

Saturday

2:00pm-12:00am
Experiences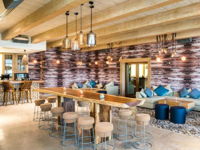 MUJERES LADIES NIGHT
Weekly on Tuesdays, 5:00pm - 10:00pm
3 house drinks and selected tapas | AED95
Reserve Now
Reviews from TripAdvisor
We went on a Friday evening. The outside seating was quite full. It over looks the marina. Very pleasant in this weather.
Nice music. Great place to chill.
We had the muscles and the vegetarian...
This is a hidden gem on The Palm. Located near Nakheel Mall, Sun& is by a marina with lovely views out over The Palm.
The three hour brunch is great value - starting with smoked salmon, Spanish...
jacquelinebB17TJ
Oct 31, 2020
We spent a very enjoyable few hours at Sun& as the sun went down over the palm. Great food and atmosphere. We will definitely be going back!
Guides that include this restaurant
Hours
Sunday

Closed

Monday

5:00pm-11:00pm

Tuesday

5:00pm-11:00pm

Wednesday

5:00pm-11:00pm

Thursday

2:00pm-12:00am

Friday

2:00pm-12:00am

Saturday

2:00pm-12:00am